Visiting the Windy City soon? Learn where to eat in Chicago with this list of the best food places to visit in the city's downtown area.
We celebrated our 8th Anniversary by spending three days in Chicago. Before our trip to the city, we spent much time reading reviews and taking recommendations from friends on places to eat.
Chicago is well known for its food scene and narrowing down where to get your meal in the bustling city can get a bit overwhelming.
Here is a list of 5 places to eat in downtown Chicago
1. Gino's East for Chicago Deep Dish Pizza
Because you can't visit Chicago and not try a deep-dish pizza, we spent lots of time reading reviews and asking friends for their recommendations of pizza spots in Chicago.
After much consideration, we decided to experience deep dish pizza in Chicago from Gino's East. It was gooey, flavorful, and amazing!
It is my understanding that each deep dish pizza is made fresh and takes 45 minutes to prepare.
For this reason, we ordered the pizza and had it delivered to us at our hotel. With only 3 days to experience Chicago, we preferred not to spend much time waiting at restaurants.
2. Satisfy Your Sweet Tooth at Doughnut Vault
Fried dough is a big deal in Chicago. The city is home to several well-loved donut shops but we could only try one.
We made our way to Doughnut Vault, where we grabbed several of their most popular donuts. It was well worth our time. Stop here to satisfy your sweet tooth.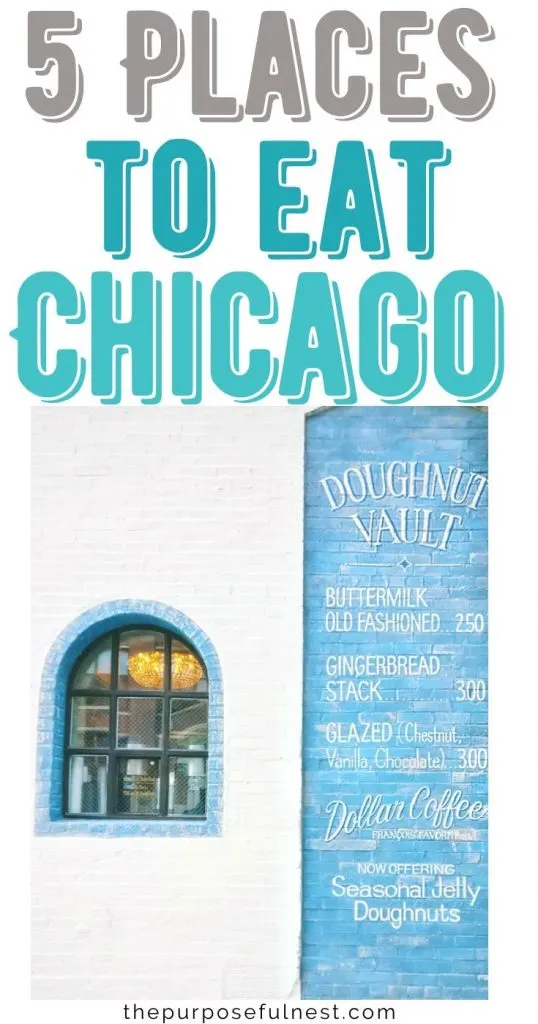 3. Have Brunch at Wildberry Cafe
Do brunch at Wildberry Cafe and be sure to try the pancakes. This place has rave reviews and definitely lives up to the hype.
Check out the video below to see Wildberry Cafe featured on Chicago's Best.
4. Portillo's for Lunch
Portillo's is THE SPOT for Chicago-style hot dogs, however, we opted for their Italian Beef sandwich. It was fantastic!
5. Fine Dine at Allium Chicago
Looking for ambiance, great service, and fresh taste? Do not overlook Allium Chicago.
Located on the seventh floor of The Four Seasons Hotel, Allium is the perfect restaurant for a romantic meal quality meal.
Bonus: Nutella!
Magnificent Mile is where you can find the world's first official Nutella Cafe.
Stop in for a cup of Nutella hot chocolate. It is different from any hot chocolate you've ever known and I can not wait to go back to Chicago to have another cup!
They also offer French and Italian-inspired breakfast items, sandwiches, salads, and desserts along with an espresso bar.
If you've enjoyed this post check out the related posts below…
Related Travel Posts
More travel and food-related posts you will enjoy.