5 Places to Eat in New York City
Today I am sharing a list featuring 5 places to eat in New York City. NYC is home to some of America's best dining experiences. The food scene directly reflects the diversity of the people that make up the big city. Looking for the best food in New York City? Want to experience a taste of the New York City food scene? Here are 5 foodie experiences to enjoy in The Big Apple.
1. Grab a Pastry at a New York City Bakery
New York is home to many well-loved bakeries. You have to check out Levain Bakery in Manhattan. This place has the best chocolate chip cookie I have ever tasted, and the most famous chocolate chip cookie in NYC. They are perfect! Crunchy on the outside and soft and gooey on the inside. Although copy-cat recipes of their cookies are plastered all over the internet, I am convinced there must actually be some secret recipe or baking technique going on in this little bakery. Their cookies are uniquely tasty! Make your way to the Upper Westside and try them for yourself. Check here more information about Levain Bakery.
2. Enjoy a Traditional Italian Meal
Experience New York Italian favorites at Tony's De Napoli. The portions are family-sized and meant to be shared around the table. You'll find the prices are reasonable, and the wait staff is impeccable. The restaurant is just around the corner from Times Square, near Broadway and the show district. It gets pretty busy here so make reservations.
Sidebar – We dined at Tony's De Napoli two nights in a row during our time in NYC. Why?… the Chicken Parm was THAT amazing!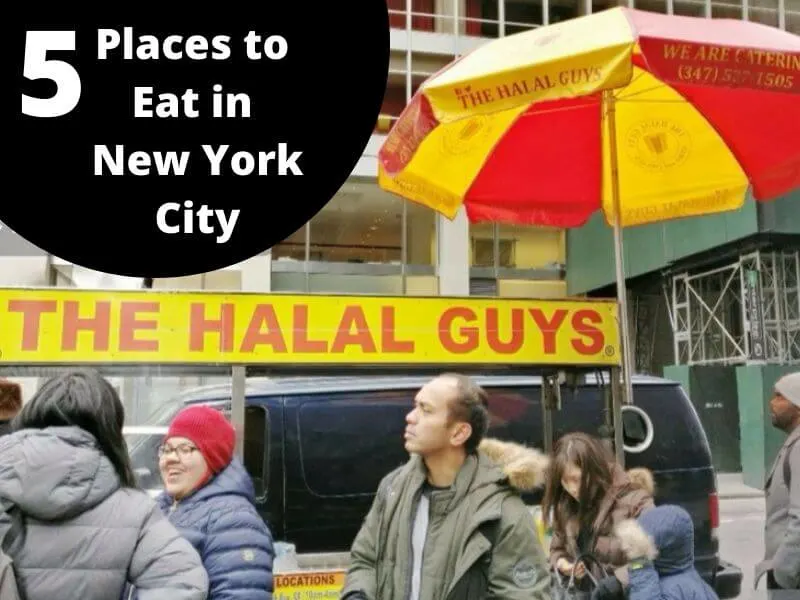 3. Open-Air Dining
You can find one of New York's most famous street carts, Halal Guys, at the south-east corner of 53rd St and 6th Ave in Manhattan. Pick up a large portion of perfectly seasoned and piping hot Mediterranean goodness for only a few bucks! This is the place to experience street food in New York City.
4. Have A Slice of New York Pizza
You can't visit New York and not have a slice of New York pie! When I think of food in New York City, pizza is one of the first things that comes to mind. The city is flooded with pizza parlors, but there is one that holds a lot of history. Lombardi's was likely the first pizzeria in the United States. Head over to Little Italy to experience a real New York Pizza.
5. Coffee Shop
Looking for a true Australian coffee experience in NYC? Check out Bluestone Lane Coffee. I am not a huge coffee drinker but my husband is. We were in NYC during the holidays so I grabbed a cup of hot chocolate from this shop. The coffee enthusiasts will love exploring the different coffee shops in the city.
More Travel Posts to Check Out