Looking for something fun to do with the kids this spring? Why not try a scavenger hunt! This version is perfect for getting outdoors and enjoying the fresh air.
Let your little ones explore their backyard, neighborhood (or a nearby park) in search of nature's treasures.
Grab this free outdoor scavenger hunt printable for kids to take with them on their next nature study. A fun activity for early elementary and preschool-aged kids.
This post contains affiliate links. See disclosure for more.
Outdoor Scavenger Hunt for Spring
Spring is just around the corner! In preparation for the incoming season, I am sharing a fun printable scavenger hunt for your kids to get out and explore.
Most kids love scavenger hunts, so I really enjoy creating them to use with my own children.
In fact, we try to do a scavenger hunt at the start of each season.
Like my Fall Scavenger Hunt, this fun list is a great way to motivate your children to get out in nature and use their senses to explore, find things, and engage with the world around them.
This printable spring scavenger hunt features a variety of things that can be found in and around the yard, a park, or any outdoor area during the spring season.
As you know, the weather in spring can be a little unpredictable.
Fortunately, many of the items on the list can be observed from indoors looking out of a window.
Children can look out through a window and work to spot the items listed on the scavenger hunt. For that reason, this is both a great outdoor activity as well as a fun rainy-day activity.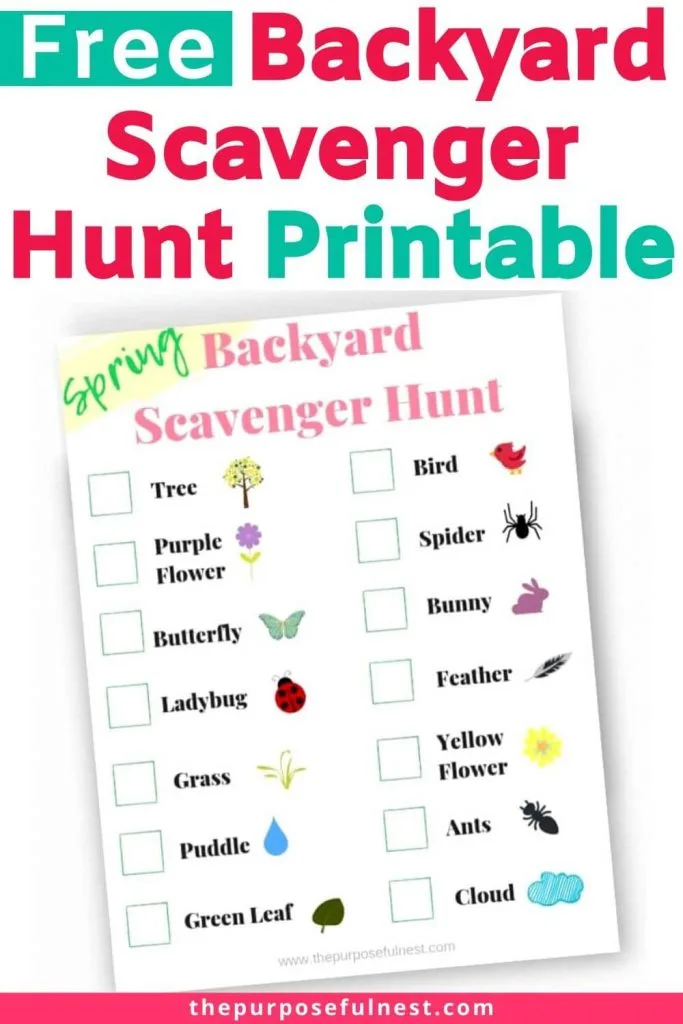 Nature Scavenger Hunt: Tools to Use
In addition to the printed list, I like giving each kid a clipboard and magnifying glass to make the experience much more fun.
I have used this exact outdoor scavenger hunt with my own children and in a class setting. This activity is a big hit with young children!
The clipboard is a small detail but a big bonus. I notice young children especially love using their own clipboards.
Additionally, bring a butterfly net and bug jar.
You'll be amazed at how much fun children will have as they work to capture creatures while on their outdoor scavenger hunt.
For an extra challenge, set a time limit and see how many items children can find before the clock runs out.
If you're feeling really competitive, you can even turn it into a family affair and see who can find the most items.
Either way, you're sure to create some lasting spring memories with this fun activity.
Continue below to check out my own kids using this list. Also, continue to the end of this post to download your pdf.
I hope that you find this scavenger hunt printable helpful. Use it to make fun memories with your children at home or with students in your class.
Related Spring Activities for Kids:
Free Printable Spring Scavenger Hunt For Kids