Dyed eggs are a classic Easter tradition, but if you don't have any food coloring on hand, don't worry! You can still dye your eggs using natural ingredients.
Your eggs will look beautiful and colorful without food coloring or artificial dye.
Dye Easter eggs naturally for a fun kid-friendly science experiment
Keep reading through this post to learn how to use foods like red cabbage, turmeric, and beets to color easter eggs naturally.
This post contains affiliate links. See the full disclosure here.
Happy First Week of February!
I hope your year has been off to a great start. If you are anything like me, you are already looking ahead to the arrival of spring and all of the cheery spring crafts and projects that come with it.
I am especially looking forward to Easter, as I do each year. With that in mind, I am sharing how we make beautiful colored Easter Eggs using only real food items.
Natural egg dyes are a great way to add color to your Easter holiday. You can use natural dyes to create a variety of colors, from classic pastels to vibrant hues.
To get started, all you need is a small pot, some white vinegar, and your choice of natural ingredients.
For this post, I used beets, red cabbage, and turmeric.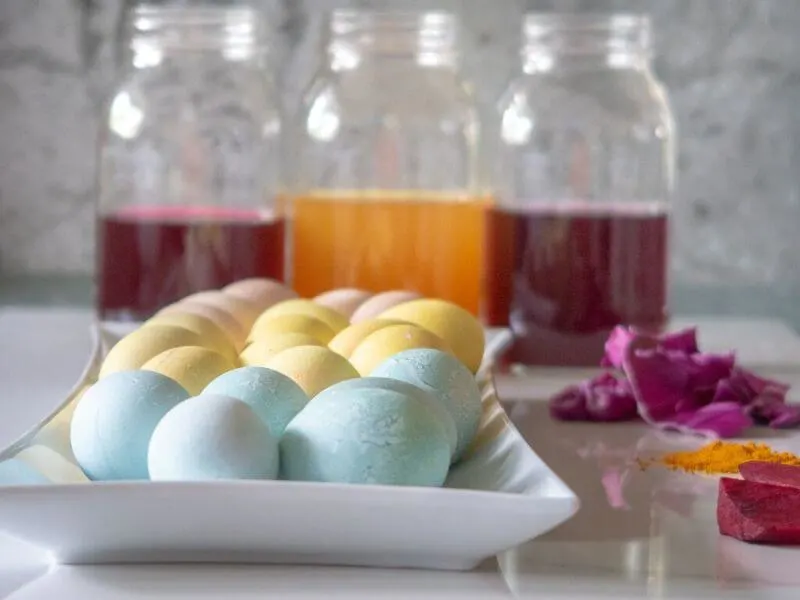 How to Dye Easter Eggs with Vegetables and Spices
While it is seemingly easier to buy store-bought dyes, using natural ingredients is a fun way to get creative with your Easter egg decorating.
Start by boiling water and adding the desired ingredients to make natural Easter egg dye.
For example, add red cabbage for blue eggs, peeled beets for pink eggs, or turmeric for yellow eggs. Boil the mixture until it reaches the desired color, then carefully strain it into a bowl.
Dip the eggs into the dye and allow them to sit for at least 15 minutes before removing them. Once the eggs are dry, they're ready.
If you are looking for a more rustic approach to coloring Easter eggs this year, this is the post for you.
Dying easter eggs with the method I share below will give you the most beautiful pastel-colored eggs.
You can even make them more opaque with a tip listed in the notes below. Also, If you're looking to fancy them up a bit, you could even add patterns to your eggs by using baker's twine.
Kid-Friendly Easter Egg Dye
This is a wonderful project to do with your kids. You could easily make this into a fun family science experiment.
Just have each child make their predictions on what color each food will turn the eggs. Kids may be surprised when the dye made with red cabbage produces blue eggs.
Not only will children love learning this process, but all of the ingredients used are natural and non-toxic.
I included my kids from start to finish by asking them what foods they thought would work and taking them to the farmer's market.
Color Easter Eggs Naturally: Instructions
How to Color Easter Eggs Naturally
Dye Easter eggs naturally for a fun kid-friendly science experiment. Keep scrolling to learn you can use foods like red cabbage, turmeric, and beets to color easter eggs the natural way.
Materials
1 dozen white NestFresh Eggs (hardboiled)
2 cups of water for each ingredient
Blue Egg Dye - 4 cups of Red cabbage (also referred to as purple cabbage)
Pink/Mauve Dye - 3 cups of beets (peeled and chopped)
Yellow Egg Dye - 4 teaspoons of turmeric
Tools
Medium Saucepan
Paper Towels
Instructions
Place one of the dye color ingredients into a pot with 2 cups of water and bring to a boil.
Reduce heat, cover, and let simmer for 15 to 20 minutes.
Remove from heat and add 1 teaspoon of distilled white vinegar.
Allow the dye to cool and reach room temperature. Strain and transition the dye into a large mason jar or small bowl.
Use tongs to submerge the eggs in the dye.
Place the eggs in the dye in the refrigerator. Check until the desired color is reached.
Wipe eggs dry with paper towels.
(Optional) Polish eggs with a small amount of oil.
Notes
To achieve a more opaque result, place eggs back in the dye for additional stain time.
Why not try something different this year and dye your eggs using natural ingredients? By following the simple instructions in this post, you can create beautiful eggs that are safe for your family and friends to eat.
So gather up some of these common kitchen ingredients and get started!
Related Posts
Enjoyed this How to Color Easter Eggs Naturally post? Check out the following related posts...
Try this cute easter bunny craft with your little ones.
Super fun and educational Easter Printable. Kids will enjoy spying and counting objects found on this free printable Easter activity.
Grab this adorable easter bunny coloring page.