Learn how you can strengthen basic math fluency in your little learners through fun, incremental daily math practice.
This post is sponsored by Page A Day Math. I was compensated for my time and honest review of this product. As always, all opinions are my own. Read the full disclosure here.
Summer is in full swing and I hope you are enjoying yourself. I know many of you use the summer months to take some time off from your regular homeschooling routines. If we're honest, learning never stops. As Charlotte Mason once said, "education is an atmosphere, a discipline, a life. With that in mind, I want to introduce you to a wonderful resource to get your children excited about practicing math facts.
Ensuring my children have fluent basic math skills is a priority in my homeschool. I was excited to try Page a Day Math's Addition & Counting Kit and even more thrilled with how well the program has worked.
Continue reading to learn all about our new math supplement and for a fun giveaway.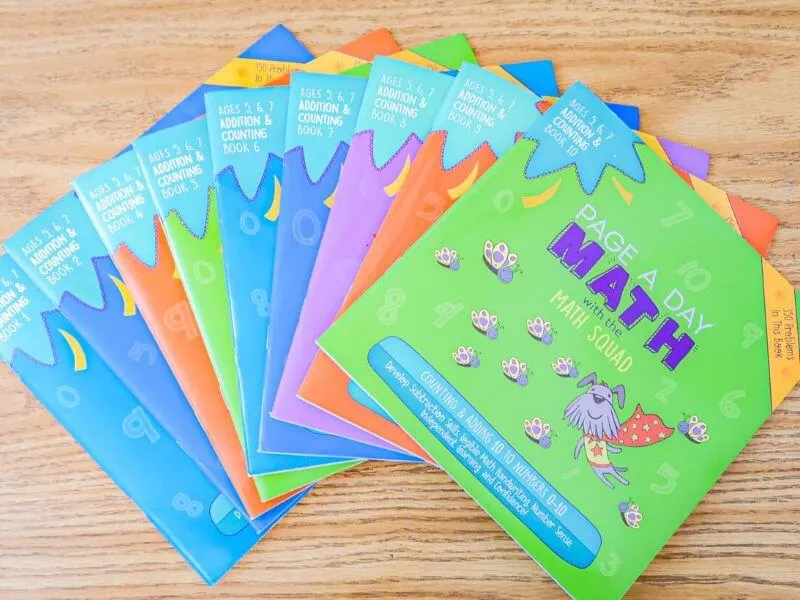 What is Page A Day Math with the Math Squad?
A supplement to any math curriculum, Page A Day Math helps kids build basic math fact fluency. The Addition & Counting Kit contains 10 research-based books full of simple and repetitive math equations for young learners. Each 10 book set has 140 days of math practice that your little learners will love. The 10 book system introduces step-by-step math equations and helps develop legible math handwriting, number recognition, independent learning, and most of all it helps build confidence.
Check out the video below to see my son working on his daily math practice.
Related: Fun Math Practice for Little Learners
How To Use Page A Day Math
The name says it all. With Page A Day Math the child completes one workbook page a day. I use the Addition and Counting Kit for all three of my children. They each complete the daily worksheet independently. Because my four-year-old is just learning basic addition, I allow him to use math manipulatives as he works to solve the equations.
What My Kids Loved About Page A Day Math
My children have been working through the Addition & Counting Series from Page a Day Math and they love it. Because of the way the kit is conveniently packaged, my children can independently access and complete each day's lesson. I only need to look over their work when it's completed. This is a huge pro for my kids. They love working through their own workbook as opposed to individual worksheets. My daughter especially was excited about completing the first workbook in the set.
I am very pleased with this program. My two older children have mastered basic addition equations and I see the improvement in their handwriting.
Enter the giveaway below for a chance to win a Page a Day math kit.
Giveaway!