Need a fun way to teach your kids about sea life? Grab these free ocean animal coloring pages. Perfect for young children.
Coloring Pages for Learning Fun
Not only are these coloring pages a blast for kids to color, but they also offer a learning opportunity for young children.
For example, did you know that starfish can grow back their limbs if they lose them? Or that lobsters have two large claws, one for cutting and one for crushing?
These fun facts and more will fascinate young learners and inspire curiosity about the incredible world beneath the waves.
Coloring also helps your child develop their fine motor skills and improves their hand-eye coordination and concentration, so having coloring pages readily available for your young children is always a good idea.
Ocean Animal Coloring Pages
The coloring pages feature over fifteen beloved marine animals, perfect for little hands to color. The following animals are featured.
Dolphin
Starfish
Seahorse
Tropical Fish
Crab
Stingray
Great White Shark
Lobster
Jellyfish
Eel
Ora Whale
Narwhal
Squid
Octopus
Pufferfish
Sea Turtle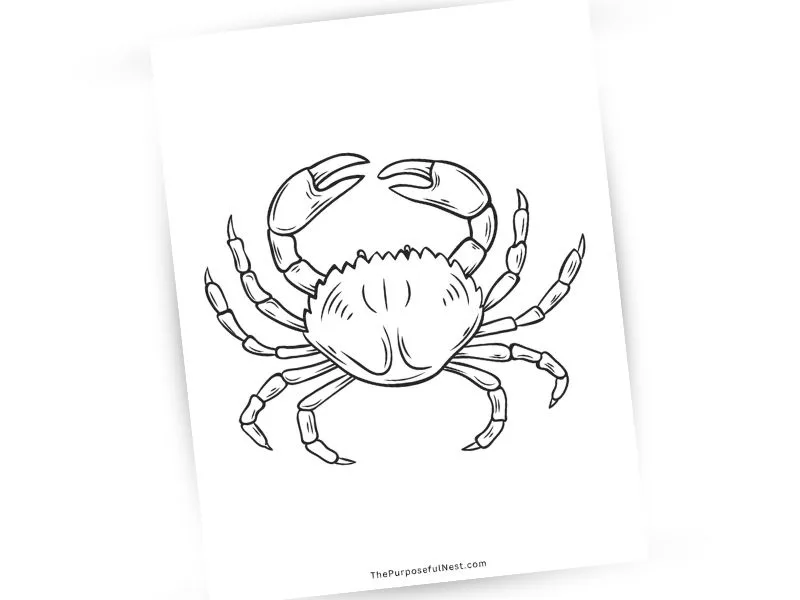 Ways to Use Ocean Animal Coloring Pages
There are countless ways you can use these coloring pages with your children.
You can use the coloring pages to introduce your younger children to each animal, explaining what they are and where they live.
The coloring itself is an excellent opportunity for your children to learn about each sea creature's unique features and characteristics.
For example, your children will learn the dolphin's triangular fin on the back and the large claw at the ends of a crab's legs.
For your older children, encourage them to research more about each animal and even create their own little marine life fact book.
Another idea is to use these coloring pages as a part of a more extensive unit study on everything ocean.
Also, use our FREE printable Ocean Animal Memory Cards.
Make sure to download your ocean animal coloring pages below and share them with your friends and family.
I hope you enjoy this freebie and your kids have a fantastic time coloring the ocean creatures.
Don't forget to tag us on social media (@thepurposefulnest) with your masterpieces. We can't wait to see them!
More Fun Freebies for You to Enjoy:
Ocean Animal Coloring Pages