Interested in using a Charlotte Mason-Inspired approach to teaching your children about world geography and culture? Continue reading this post to learn how we use picture books to travel and learn the world in our homeschool. Continue to the end for a fun giveaway!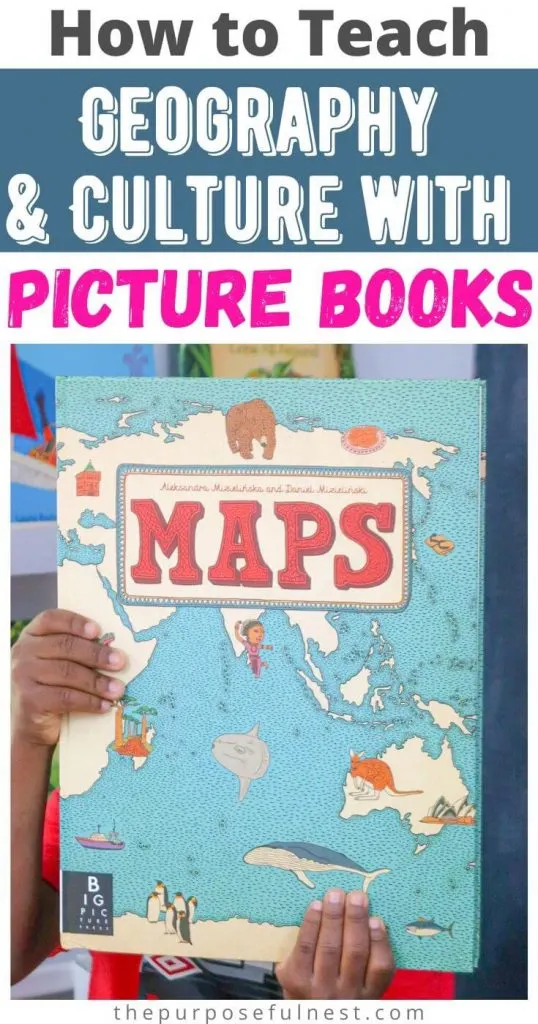 This post is sponsored by Beautiful Feet Books and may contain affiliate links. As always, all opinions are my own. Read my full disclosure policy here.
Literature-Based Approach to Teaching Geography and Culture
In our homeschool, we follow Charlotte Mason's philosophy of giving children the best books to feast on. We are using this approach as we are teaching our children about geography and cultures around the world. Picture books are a wonderful way to introduce children to the diversity of the world around them.
Choosing Good Picture Books
First, it is crucial to note that not all picture books are created equally. Walk the isles of the children's section in your local public library and you will find rows upon rows of picture books. The content of the picture books you read to your child is vitally important.
Because it is important that children learn from books that convey wise ideas, interesting stories, and delightful artwork, choosing the correct picture books to learn from is vital. Keeping that in mind, I like to use a literature-based curriculum. I love teaching world geography and culture using Around the World With Picture Books from Beautiful Feet Books.
Beautiful Feet Books: Around The World With Picture Books Pt 2
Beautiful Feet Books creates Charlotte Mason-inspired literature curriculum and teacher's guides. I am currently using their Around the World With Picture Books Pt 2 with all three of my children.
My 3 kids are between the ages of 4 and 7. Because we use a literature-based curriculum, even my youngest child can join in our lessons.
Around the World With Picture Books, Pt 2 covers South America and Europe and contains approximately 70 lessons. It comes with 1 Teacher Guide, 23 Books, and 1 Notebook. You can complete 4 lessons per week for a semester study or complete 2 lessons per week for a one-year study. I love this curriculum. More importantly, my children love this curriculum.
Aside from the wonderful books, my children's favorite part of the curriculum is the art and notebooking.
My only grievance with the curriculum is the font size of the text in the teacher's guide. It is a pinch on the small side for my personal preference.
Check out the video below to hear Rea Berg (author of Around the World With Picture Books) give an overview of the curriculum.
Materials from Beautiful Feet Books have become a staple in our home. We also use their Early American History Literature Pack as our history curriculum.
If you are looking to grab one of the literature packs but already have some of the books on hand, Beautiful Feet Books offers the option to customize your pack to include only the books you need.
Interested in learning more about Beautiful Feet Books, their curriculum, and resources? Visit them on Facebook, Youtube, and Instagram. They host quite a few giveaways over on their Instagram page so you will definitely want to follow them over there. Below is an example of one of their recent "Free Book Friday" posts 😉. Speaking of giveaways, continue to the end of this post and enter to win a $100 Beautiful Feet Books Gift Card.
Beautiful Feet Books Giveaway!