Looking to make homemade hot chocolate using chocolate chips? Look no further. Use this simple and delicious recipe to make a tasty and comforting classic hot chocolate this winter.
Winter is here and nothing is better on a cold night than a rich, creamy mug of steaming hot chocolate.
This year you can ditch the hot cocoa packs filled with that chalky powder.
I am sharing how to make the best homemade hot chocolate from scratch and it is surprisingly simple.
Anyone can stir cocoa powder into warm milk and call it a day, but this recipe will put a smile on your face bigger than the Grinch's when he got the idea to steal Christmas.
Imagine hot simmering milk, combined with melted milk chocolate, a splash of maple syrup for sweetness, and a dash of cocoa powder all topped with fresh homemade whipped cream.
The combination is rich, creamy, and extremely satisfying. Continue through this post for a full list of ingredients, measurements, and instructions.
This post may contain affiliate links. Read the full disclosure here.
Homemade Hot Chocolate Ingredients
Simple is always best. This recipe only calls for four ingredients. In my opinion, simple homemade hot chocolate should be just that………. SIMPLE.
Milk: When it comes to milk your options are numerous and growing. I prefer a non-dairy option like unsweetened almond milk.
Chocolate: The must-have ingredient for making hot chocolate! I prefer chocolate chips because they easily melt into the warm milk making the mixture extra rich and creamy.
Cocoa Powder: Adds the distinct "hot cocoa" taste. The cocoa powder should not be omitted, it is the perfect pair with the chocolate chips.
Sweetener: I prefer a natural sweetener, but you can add a sweetener of your choice. Maple syrup, honey, agave nectar, sugar, or coconut sugar are would each work well in this recipe.
What's the Difference between Chocolate and Hot Cocoa?
Simply put, Hot Chocolate is the graduate level of Hot Cocoa. Hot Cocoa is the product of whisking cocoa powder and warm milk together. The thing that transforms hot cocoa into hot chocolate the addition of real melted chocolate.
Whether your chocolate preference is a bitter dark or sweet milk chocolate the outcome really doesn't change. The melted chocolate gives your drink the smooth velvety texture that cocoa powder would not achieve on its own.
How to make Simple Homemade Hot Chocolate with Chocolate Chips
Pour the milk of your choice into a saucepan over medium-low heat and bring to a light boil.
(Tip. Carefully observe milk because contents could boil over)
Remove the saucepan from the heat once milk begins to boil.
Whisk cocoa powder into the same saucepan as the milk.
Add chocolate chips and maple syrup into warm milk and continue stirring until the chocolate has dissolved.
Serve by pouring Hot Chocolate into your favorite mug or create a serving station with toppings such as fresh whipped cream, peppermint chips, and marshmallows.
(Tip. If you are serving this simple homemade hot chocolate for multiple guests, keep the hot chocolate nice and warm in a crockpot at a low temperature.
Easily transform this hot chocolate into a festive holiday treat. Crushed candy cane, Oreo cookies, and holiday-colored sprinkles will do the trick.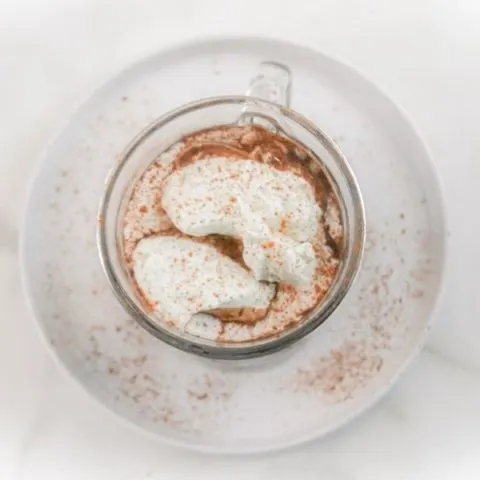 Homemade Hot Chocolate with Chocolate Chips
Make this rich and delicious hot chocolate with chocolate chips. This hot chocolate is classic, satisfying, and simple to make.
Ingredients
4 cups milk
2 heaping tablespoons of cocoa powder
1/2 cup chocolate chips
1 tablespoon of maple syrup
Splash of vanilla extract (optional)
Dash of cinnamon (optional)
Toppings of your choice
Instructions
Add milk to a saucepan and bring to a low boil careful not to allow milk to boil over. Remove pan from heat once milk reaches a light boil.
Add cocoa powder to the saucepan of milk. Wisk until well combined.
Add chocolate chips and maple to the warm milk and continue to whisk until chocolate is completely dissolved and combined.
Transfer hot chocolate to a mug.
Top with toppings of your choice such as marshmallow or whipped cream. (optional)
Recommended Products
As an Amazon Associate and member of other affiliate programs, I earn from qualifying purchases.